Plastic Injection Molding
FKI USA is an experienced mechanical products manufacturer of metal and plastic components.  We are knowledgeable and capable of fabricating tooling and production for plastic injection molding products using ABS, FRP, polycarbonate, HIPS, PS and engineered polymers.  FKI is experienced in high cosmetic Class A products and is experienced in developing these products competitively to the most challenging cosmetic standards.  We are able to provide multiple solutions for your molded products requirements.
We will develop parts from small to large (ie: up to a 65" LCD TV enclosure) products. FKI has injection molding machines from 110 tons up to 1600 tons. We will manufacture tooling and provide production from our factories overseas and will be offering production services in the Texas facility by 2015.
Products offered by FKI USA Plastic Injection Molding Fabrication Services
Domestic Fabrication – engineered, manufactured, and qualified with production in Texas
Offshore fabrication and direct shipment – typically offers the lowest cost
LCC fabrication with domestic warehousing – allows changes in demand
Molding Equipment
Over 125 production molding presses company wide
110 to 1,600 Ton presses
Electric and hydraulic presses
Overhead cranes can handle up to 20 tons
Pad printing, silk screening & painting
Assembly and integration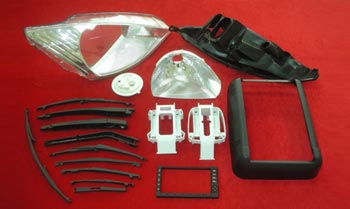 Request A Quote