Precision Metal Stamping
FKI USA is an experienced metal stamping manufacture that is capable of developing simple to complex products using cold rolled steel, HSLA, aluminum, brass, and stainless steel materials from .20" to .500" in thickness. Our common process is steel coil thicknesses from .016" up to .250" and up to 20,000 pound coils utilizing stamping presses with bed sizes up to 132" x 60" and up to 600 ton capacity.
Manufacturing high volume cosmetic Class A decorative products that are difficult for other manufactures is our specialty. FKI also provides component assembly to better manage the production process and reduce manufacturing lead time. With the ability to develop tooling solutions domestically, we can provide greater flexibility to our clients without sacrificing costs or time to the market.
Manufacturing Capabilities
High Speed Metal Stamping
Deep Draw Stamping
Cosmetic Products
Transfer Dies
Progressive Die up to 132"x 60" 600 Tons
Coils up to 60" Diameter and 20,000 lbs
Mechanical Presses from 200 - 600 Tons
Press Speeds up to 150 SPM
High Volume +1,000,000 Progressive Die Stamping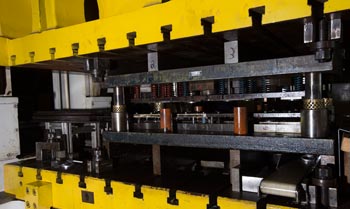 Request A Quote